The Comm/Unity Network is a cohort of national communicators dedicated to challenging the criminalization of immigrants.
Resources for Journalists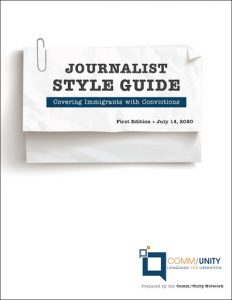 On July 14, 2020, Comm/Unity released a style guide for journalists reporting at the intersection of immigration and the criminal legal system. Access the style guide here. The guide contains:
Background information and language suggestions around the criminal, legal, and immigration systems

Recommendations for interviewing a person with a criminal record who is facing deportation

History on Immigration and Customs Enforcement (ICE) relationship with the press and possible questions in response to sensationalistic press statements from ICE

Approaches to ensure nuanced coverage and avoid oversimplification.

A short, developing list of sources who have made themselves available for comment, with a focus on the voices of Black immigrants and formerly incarcerated immigrants.
Resources for Advocates
Comm/Unity has also developed resources to support the work of immigrant rights advocates who are seeking to challenge criminalization.
Inclusive, intersectional messaging for immigrant rights during COVID19

. (April 2020)

This short chart helps advocates avoid harmful frames propagated by right-wing organizations as we work to #FreeThemAll. (

Disponible aquí en Español

.)

Language for Liberation: A Playbook for Inclusive Immigration Messaging. (November 2019)

The Playbook is a resource for advocates working at the intersection of mass deportation and mass incarceration. It offers messaging recommendations for some of the most prominent issues that face our communities, including:

Decriminalizing migration/humane treatment at the border

"Sanctuary" policies

Gang issues

People in state prisons

Ending detention
The Playbook also offers a set of provocative guest essays that outline the history of policy and messaging on enforcement issues.
To read a short summary of recommendations, please click here.
To request a copy of the Playbook, please click here. For additional information and resources, please contact Jon Rodney at jon (at) immdefense.org
---
Comm/Unity includes: Detention Watch Network, Freedom to Thrive (formerly Enlace), Grassroots Leadership, Immigrant Defense Project, Immigrant Legal Resource Center, Just Futures Law, Latino Justice, National Immigrant Justice Center, National Immigration Law Center, National Day Laborer Organizing Network, Southeast Asia Refugee Assistance Center, Undocublack, United We Dream, and is anchored by the Immigrant Defense Project.