Deport 2-3 million? Not without a fight.
November 14, 2017
Dear Friends of IDP,
As 2017 winds down, we at IDP are gearing up!  While the Trump administration escalates the war on immigrants through fear, racism and lies, we continue to counter with resistance and resilience. Thanks to your ongoing partnership and support, we can share victories from this past year and lay the foundation to fight back in 2018. The threats we face are numerous, but together, we can make an impact. Your contributions are critical to IDP's work to ensure justice for individuals, their families and their communities — our communities. There is much that our collective efforts can accomplish, and your year-end gift to IDP is critical to make it happen!         

1IDP regularly works with allies across the country to achieve these goals
For the past 20 years, IDP has been at the forefront of campaigns to protect and defend human rights. Our unique expertise, converging at the complex intersection of the criminal legal and immigration systems, has propelled us to fight against mass criminalization, incarceration and deportation.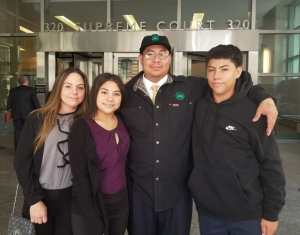 "IDP saved my life. If it wasn't for you guys my life would have been destroyed. There are almost no words to explain everything you did to protect my family."  – Jose Molina (center), a devoted father, husband and valued worker at the NYC Parks Dept., who had been fighting deportation for 4 years. IDP coordinated a campaign that resulted in the termination of his deportation, being now reunited with his family.
 "Without my father's love, support and guidance, I wouldn't have accomplished any of those things. My father is my role model and I love him with all my heart. Please do not tear my family apart…[my dad] might not be perfect to you but he is to me."  – Ariana Molina, Jose's 14 year old, who has dreams of becoming a lawyer.          
 You can read more about Jose's story on our website, here. 
Given the current escalation of attacks on immigrants, IDP has experienced an unprecedented surge in demand for our work. With your generous contributions, we can ensure that we have the crucial resources needed to overcome the challenges ahead.  We are ready to face 2018 with a plan of action grounded in five inter-connected strategies to advance the rights of all immigrants. Please continue partnering with us in this fight!
Policy and Advocacy – Continue to fight to expand state and local protections such as Sanctuary, gubernatorial pardons, and our campaign to get ICE out of the Courts while reforming the criminal legal system with our allies through sentencing reform of misdemeanor offenses, decriminalizing marijuana, and closing Rikers. On a federal level, we will continue to support efforts to pass a Clean Dream Act that is free of additional deportation provisions and push back against increased attempts to criminalize immigrants.
Legal Advice and Trainings – Expand our ability to help immigrants in the most vulnerable position avert detention and deportation through our free national hotline; and produce a variety of tools to support defenders, immigration lawyers and advocates, including a national guide to getting immigrants out of detention with cutting edge legal arguments.
Impact Litigation – Continue to orchestrate the strategy behind litigation in the Supreme Court and Circuit Courts, following several key victories this year, and develop innovative arguments to fight back against the Trump administration's mass deportation plan and expand due process for all immigrants.
Community Defense – Ensure that communities and grassroots groups are armed with information to protect themselves and to organize to fight for their families, including our evolving and responsive Know Your Rights and Train-the-Trainers educational materials, workshops, and upcoming app.
Strategic Communications – Bring to the forefront, through the use of traditional media, high-profile influencers and social media, a change in the conversation by countering the demonization of immigrants and people with criminal convictions, exposing the human toll of unjust policies, and helping to humanize people who are often invisible and hidden away behind walls of jails and detention centers.
Together we can stand strong against injustice – Donate today!
Sincerely,
Alisa Wellek
Executive Director
Mizue Aizeki
Deputy Director
On behalf of:  Alejandra Lopez, Andrew Wachtenheim, Anthony Enriquez, Ariadna Rodenstein, Benita Jain, Genia Blaser, Joe Celestin, Lee Wang, Lili Salmerón, Manny Vargas, Marie Mark, Michelle Parris and Ryan Muennich.
P.S.  In the next few months we will update you further on the specifics of our plans. For now, together with your contribution, please consider reaching out to any of us for more information and to offer your ideas for next steps.