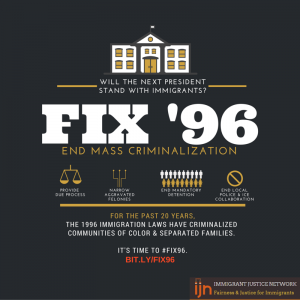 (April 28, 2016) The Immigrant Justice Network (a collaboration that includes IDP), is excited to announce of our campaign to #FIX96. We all acknowledge that our immigration system has many challenges. But what often gets left out of the conversation is that much of this dysfunction can be traced to a pair of immigration laws passed by Congress and signed by President Clinton in 1996, the Illegal Immigration Reform and Immigrant Responsibility Act (IIRAIRA) and the Antiterrorism and Effective Death Penalty Act (AEDPA).
The week of April 25 marks the 20th anniversary of one of these laws, which are directly responsible for expanding incarceration of immigrants, creating a fast track for deportations without due process, setting the foundation for local police and ICE collaborations and making legal immigration much more difficult. We believe that immigration reform is incomplete without a reform of these 1996 laws.
Congressional Resolution Calls for Reforms to the 1996 Laws
On Thursday, April 28, IJN, in partnership with Representative Raul Grijalva, the Congressional Progressive Caucus, the Congressional Asian Pacific American Caucus, over 30 other members of Congress and 84 advocacy groups across the nation, upported the introduction of a Congressional resolution calling for crucial reforms to the 1996 immigration laws, from restoring due process for immigrants and reinstating discretion for immigration judges to ending local police & ICE collaboration and narrowing aggravated felonies, amongst other provisions. Full resolution here | Congressional Progressive Caucus Press Release 
Partners, Allies, and News on #FIX96
A diverse coalition of lawmakers, advocates, government officials and members of the immigrant community are all calling to #FIX96.
As you can see, this is a topic on the minds of many, most of all the countless immigrants and their families who have to bear the brunt of the impact of these laws still two decades later.
With a new presidential administration around the corner, we must collectively raise awareness around why these reforms are a crucial aspect of any future conversations around changes to our immigration system. We ask you to join us in calling to #FIX96.
3 Ways You Can Take Action Right Now
1. Join our photo campaign
Choose a template to print here and check out the IJN website  for inspiration & instructions; and show your support for #FIX96!
2. Spread awareness
Change your profile picture or tweet the #FIX96 logo above along with any of the following statements (or one of your own):
[Twitter] This week marks 20th anniv. of '96 immigration laws & era of mass deportation. #FIX96 Join: bit.ly/fix96
[Facebook] This week marks the 20th anniversary of the 1996 immigration laws – 2 decades of mandatory detention. 2 decades is far too long. Join us in calling upon the next administration to #FIX96. bit.ly/fix96
Need more inspiration? Find more social media language here.
3. Learn more
Find out more about the intersections between mass incarceration and mass deportation, and why it's imperative that  we continue to build solidarity between criminal justice and immigrant rights advocates | Read our vision statement, find community resources to use and read more stories about people affected by the 1996 laws at bit.ly/fix96
Tell the next president: It's time to #FIX96
Use the script and questions below to get the presidential candidates on the record when they campaign in your community.
"Politicians from both parties have talked about reforming the broken immigration system. But they remain silent on addressing the immigration laws of the 1990s that created so much damage.
"Under these laws, millions of immigrants, including long-time green card holders and people who gained asylum in the US, have been criminalized and then forcibly deported away from their families and communities.
"Will you commit to changing the 1996 immigration laws that made detention and deportation essentially a mandatory minimum sentence for so many immigrants?"
For more information, click on our #FIX96 Resource Guide below
The '96 Laws and the Damage Done
In 1996, Congress passed and President Clinton signed into the law the Illegal Immigration Reform and Responsibility Act (IIRAIRA) and the Anti-Terrorism and Effective Death Penalty Act (AEDPA). Touted as tools to control illegal immigration and combat terrorism, these laws have had severe consequences for immigrant communities, expanding the government's ability to automatically detain and deport people on a massive scale without due process.
What the '96 laws did:
they redefined "aggravated felony" to include a long list of low-level offenses. An immigrant with such a conviction will almost certainly be deported without an immigration judge weighing any of the circumstances of their case;
they eliminated many effective defenses against deportation and replaced them with very weak, hard-to-win defenses;
they set up mandatory and prolonged detention of immigrants, mostly in privately run for-profit prisons;
they created new fast-track procedures that deport people without letting them see an immigration judge;
they established programs that further involve local police in deportations, breaking police-community trust and diverting law enforcement resources.
A Vision for Ending the Criminalization of Immigrants
The Immigrant Justice Network envisions communities that are healthy and thriving, instead of ones torn apart by unfair and discriminatory policing, incarceration, and deportation.
To secure the full human rights of all members of our communities, we need to end mass deportation and mass incarceration while addressing the racial, economic, and legal injustices that underlie both. The US government needs to invest in people and not more law enforcement. It should uplift communities, not maintain the laws that tear them apart.
IJN believes that people should not be detained and deported without a fair day in court, and especially not on the basis of crimes for which they have already been punished for. Partnerships with community groups and directly impacted individuals who have navigated or survived the detention, deportation, and criminal justice systems are essential to achieving this vision. These partnerships have the best chance of building long-lasting power for transformational change of our criminal and immigration systems.
Expose and challenge the selective and discriminatory policing, prosecution, sentencing, and deportation of black and brown community members.

At a minimum, eliminate the disproportionate consequences of drug offenses and unauthorized migration, such as illegal reentry and the militarization of the border, in the criminal legal and immigration systems.

Narrow the list of aggravated felonies, a category of hundreds of offenses triggering automatic deportation.

Restore a fair day in court and end fast track deportations

Ensure that everyone, regardless of immigration status and criminal record, has the opportunity to go before an immigration judge and to present a full defense with an effective lawyer.

Limit the authority of the federal government to deport immigrants for long ago conduct.

The Department of Homeland Security's' practice of permanently holding immigrants under the threat of deportation for old offenses violates basic notions of fairness long recognized in the law.

Eliminate the use of the mandatory detention laws, and end nationwide the practice of prolonged detention.

The U.S. Immigration and Customs Enforcement and Immigration Judges should prioritize release regardless of ability of pay. At a minimum, they should set reasonable bonds and consider community-based release options.

Ensure that immigrants have equal access to justice in the criminal system

Eliminate arbitrary law enforcement policies that target communities based on race or perceived immigration status, investing in a meaningful and effective system of public defense including advisals on the immigration consequences of criminal cases, and curbing the power of prosecutors and judges to impose more punitive measures on immigrants including harsher plea deals and sentences.

End mass deportation programs

Entanglement of deportation programs – Priority Enforcement Program, Criminal Alien Program, and 287(g) – with the criminal system threatens the rights of U.S. citizens and immigrants alike, encourages racial profiling, results in prolonged detention, and compounds the racial and economic injustices of the criminal justice system.

Protect the privacy and rights of immigrants

Immigrants have increasingly been impacted by the government's expansion of new law enforcement technologies and databases and its use in surveilling immigrant communities and immigrant and criminal justice rights' activism.
About the Immigrant Justice Network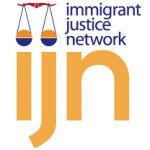 IJN is a collaboration between the Immigrant Defense Project, Immigrant Legal Resource Center, and National Immigration Project of the National Lawyers Guild. Since the 1980s, our organizations have protected, defended, and expanded the rights of noncitizens in the U.S. impacted by mass incarceration and deportation, including those who are labeled as public safety or national security threats.
IJN engages in advocacy, policy, education, technical assistance, training, communications, and litigation to address the needs of those caught in the intersection of the criminal legal and immigration systems. We have established multi-faceted programs that support criminal defenders, immigration and criminal reform advocates, and grassroots groups to protect the rights of noncitizens and transform these systems.