Our policy work is grounded in the belief that all people, including those with convictions, deserve equal rights and that people should not be perpetually punished on the basis of having a criminal record.
IDP's immigration advocacy work focuses on ending the vilification and mass deportation of immigrants, particularly those with criminal convictions.
IDPs work includes ending the entanglement between the immigration and the police, building strategic alliances with criminal justice advocates, and supporting directly-impacted communities by providing information, analysis, and strategy towards expanding rights and transforming the criminal and immigration systems.
State and Local Advocacy
New York For All Act
For years ICE has tried to divide us, determined to cruelly target immigrants and separate families. ICE continues to lean on local law enforcement and local government agencies to search for, arrest, and deport people, and to separate families who are part of our New York. When local agencies conspire with ICE, it further criminalizes, targets, and marginalizes immigrant communities, and magnifies the injustices of the racially biased criminal legal system and discriminatory policing.
All New Yorkers, regardless of immigration status, want to participate in their communities, provide for family, and access health care and public goods without fear and intimidation.The New York for All Act (S3076/A2328) offers protections that help make this possible, by prohibiting all local law enforcement and state agencies from conspiring with ICE or participating in its cruelty. Read more about the legislation here.
ICE Out of the Courts
Over the past decade, ICE has increasingly embedded itself in the criminal legal system, employing criminalizing narratives and the tools of the racialized systems of policing and punishment to advance it's deportation. In New York State, one of the manifestations of this is increasing ICE raids, including ICE arrests and surveillance at courthouses. The Immigrant Defense Project closely monitors ICE activity in the courts and has seen a significant uptick in ICE courthouse arrests since the beginning of 2017. In response, we have been coordinating a campaign to get ICE Out of the Courts in New York State and have been supporting similar campaigns nationally. The ICE Out of Courts campaign has been working with our partners in the Justice Roadmap, calling on the New York Legislature to address racialized state violence in all of its forms, and that includes protecting immigrant New Yorkers from ICE policing.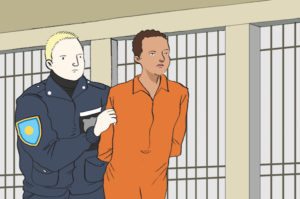 Pardon: The Immigrant Clemency Project
In the Fall of 2018, IDP launched Pardon: the Immigrant Clemency Project, an initiative that aims to protect immigrants and to push back against policies that disempower and marginalize people with criminal histories.
Ending ICE/Police Entanglement
The criminal legal and immigration systems have become increasingly entangled. Inevitably, when a criminal legal system that is institutionally biased against people of color, including immigrants, becomes enmeshed with an immigration system that lacks due process, immigrants are routinely treated unfairly and unjustly under the law. IDP works to keep the two systems separate, and to protect and expand rights in both systems.
One Day to Protect New Yorkers – 364 Day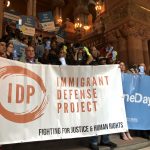 The One Day to Protect New Yorkers Act fixes a discrepancy between federal and state sentencing law that puts people at risk of immigration detention and deportation. This change protects thousands of New Yorkers from being torn away from their communities due to immigration detention, denial of necessary immigration relief, and deportation.
Criminal Legal System and Drug Reform
IDP identifies strategic initiatives and builds alliances to end the injustices at the intersection of the criminal legal and immigration systems, such as marijuana legalization, policing reform, and more.
Federal Immigration Policy
Connecting local work to federal advocacy
In the just immigration reform at the federal level, effective advocacy requires a focus on nationally connected local battles. IDP works to share knowledge and insights from innovative campaigns that we and our partners are leading in the state of New York, a key battleground for DHS' deportation programs, in order to support campaigns and build momentum nationally. We collaborate in national networks and convenings to ensure a coordinated strategy that moves everyone forward. Meanwhile, our longstanding work with public defenders representing immigrants (often the last lawyer an immigrant may see before facing detention and deportation), allows us to monitor shifting ICE tactics on the ground, information we then share with partners nationally.
Advocating through the Immigrant Justice Network
Since 2006, IDP has collaborated on national advocacy with the Immigrant Legal Resource Center and the National Immigration Project (NIP/NLG) through the Immigrant Justice Network (IJN). Guided by the vision of a society where all people receive fair and equal treatment under the law, we work together to to provide legal, technical, and messaging support to immigrant communities, legal practitioners, and all advocates seeking to advance the rights of noncitizens.
IJN's chief goals are to protect the rights of immigrants accused of crimes within the criminal justice process, eliminate unjust and disproportionate immigration penalties for immigrants accused or convicted of crimes, and seek just immigration reform for all immigrants.
Working to shape the national conversation on immigrant rights
IDP coordinates the Comm/Unity Network, a cohort of national communicators dedicated to challenging the criminalization of immigrants. In October 2019, we brought all our partners to NYC to strategize for 2020. Drawing upon a range of available research and the work of network members and community partners, in November 2019 Comm/Unity released Language for Liberation: A Playbook for Inclusive Immigration Messaging.
Read more about IDP's work as a part of the Comm/Unity network and request access to the playbook.