Learn about raids | Defend your community | Train community members 

For years, IDP has been tracking, requesting information and training community members on immigration (ICE*) raids and arrests. To challenge the practice of ICE raids, communities must understand ICE tactics, help those at risk of deportation prepare, and strategize about ways to fight back through organizing and/or in the courts.
* ICE, or Immigration and Customs Enforcement, is the federal agency responsible for arresting, detaining and deporting immigrants.
Learn about ICE (immigration) raids
ICEwatch: Created by IDP and the Center for Constitutional Rights (CCR), ICEwatch is  an interactive map that details ICE's deceptive and aggressive tactics with summaries of over 650 raids
Toolkit by IDP and the Center for Constitutional Rights (CCR)

Learn about our country's massive detention and deportation system, specific ICE raid tactics, and how communities can prepare to challenge ICE raids. (Ver la versión en español aqui)

Booklet detailing trends in enforcement and your rights
ICE's own training and guidance to agents on how to conduct home raids.

IDP received these documents as part of an ongoing Freedom of Information Act (FOIA) request being litigated by CCR.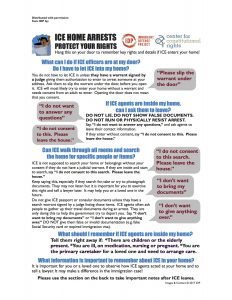 Defend your community against ICE raids
Prepare to train community members on encounters with ICE