The Time to Act to Get ICE Out of Courts is Now!
The Immigrant Defense Project has documented an alarming 1700% increase in ICE courthouse arrests and attempted arrests across New York State under the Trump administration. As leaders of the ICE Out of Courts Coalition, we are coordinating a campaign to get #ICEOutofCourts in New York State. For the past two years, our statewide coalition of anti-violence advocates, public defenders, civil legal services providers, labor unions, and membership organizations has been steadily building our campaign, calling on the New York State government — the Office of Court Administration, the legislature, and the governor — to stop ICE from targeting immigrant New Yorkers in the courts.
The New York State bill, the Protect Our Courts Act, did not pass this legislative session, but on April 17, 2019, we celebrated a huge victory after the New York State Office of Court Administration (OCA) announced it was implementing rules prohibiting ICE from arresting individuals in state courthouses without a judicial warrant or judicial order. Read the new rules here, and our press release about their announcement here.
The new rule comes after a two-year community campaign by the ICE Out of Courts Coalition pushing for court rules and legislation to keep ICE from laying in wait for immigrant survivors of violence, witnesses, defendants and family members in and around courthouses across New York. One week prior to the implementation of the rule, the coalition renewed the call for court rules in an 80-page report measuring the harmful impact of ICE's increased courthouse operations. The coalition continues to push for the Protect Our Court Acts which supplements the OCA policy by maximizing protections against ICE courthouse arrests.
What can you do to help get ICE out of courts and protect New York's most vulnerable? Call your state legislators and ask them to pass the Protect Our Courts Act! 
"Hi, my name is ___ and my zip code is ___ (to verify you live in their district). I am calling Senator/Assembly Member/Governor to urge them to publicly support the Protect Our Courts Act. (Senate Bill 425/Assembly Bill 2176). New York State can become a leader by passing this landmark legislation to protect immigrant rights and equal access to courts!"
Find your State Senator here or State Assemblyperson here.
New York State Assembly Phone: (518) 455-4218
New York State Senate Phone: (518) 455-2700
Office of NYS Governor Andrew Cuomo: Phone: (518) 474-8390
"We have concluded that this report provides us with a sufficient basis to take the step that many have asked us to take to require that ICE present a judge-issued warrant before conducting an arrest in a state courthouse. Although we're not aware that any other court system in the country has taken this step, this comprehensive, well-documented report has convinced us that this change in policy is now appropriate and warranted." 
– Chief Administrative Judge Lawrence Marks to New York Law Journal
The Protect Our Courts Act (New York State Bill A.02176/S.00425)
Assemblywoman Michaelle Solages and Senator Brad Hoylman introduced the Protect Our Courts Act in January 2019, the most significant piece of state legislation in the country to protect access to the courts for immigrant communities by imposing restrictions on civil immigration arrests of those attending court. Information about the bill and the bill text itself can be found at the links below.
NYS Litigation Challenging ICE Courthouse Arrests
On September 25, 2019, two federal lawsuits challenging ICE courthouse arrest activity were filed—one by NYS Attorney General Letitia James and the Brooklyn District Attorney Eric Gonzalez and the other by the Legal Aid Society and the law firm Cleary Gottlieb Steen and Hamilton on behalf of immigrants' rights advocacy groups. IDP helped initiate and provides support for these two groundbreaking lawsuits.
On November 5, 2019, Immigrant Defense Project and 40 legal services organizations, public defender organizations, and non-profit organizations filed a brief as amici curiae in support of the New York Attorney General and Brooklyn District Attorney's Lawsuit, State of New York, et al. v. U.S. Immigration and Customs Enforcement, et al., 19-cv-8876 (JSR), to get ICE out of courts. The brief details and documents the harmful impact that ICE has had on the New York State judiciary and all those who need to access the courts over the past three years.
Safeguarding the Integrity of Our Courts: The Impact of ICE Courthouse Operations on New York State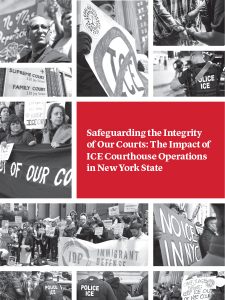 For two years, the ICE Out of Courts Coalition gathered qualitative and quantitative data on the impact of ICE courthouse arrests from stakeholders across issue areas and roles within the justice system. Safeguarding the Integrity of Our Courts: The Impact of ICE Courthouse Operations in New York State provides a 360-degree view of how courthouse arrests derail and disrupt the functioning of the judiciary system.
Freedom of Information Act (FOIA) Request
In March of 2019, IDP, with the Kathryn O. Greenberg Immigration Justice Clinic at the Benjamin N. Cardozo School of Law and O'Melveny & Myers LLP,  filed a lawsuit under the Freedom of Information Act (FOIA) in the United States District Court for the Southern District of New York for documents about ICE's courthouse arrest practice. Click here to read the complaint and underlying FOIA request.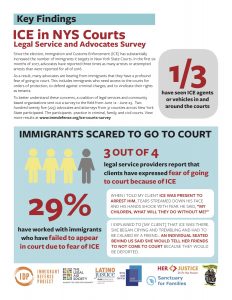 ICE in NYS Courts – Legal Service and Advocates Survey
In June of 2017, a coalition of legal services and community-based organizations sent out a survey to the field from June 12 – 23, to better understand these concerns. 225 advocates and attorneys from 31 counties across New York State participated. The participants work in criminal, family, housing, employment, education, and immigration law, and practice in criminal, family, and civil courts in New York State. Click here to view the results of the survey.
Letters sent to the Chief Judges of the New York State Court of Appeals
In 2017, the ICE Out of Courts Coalition sent the following letters to Chief Judge Janet DiFiore and Chief Administrative Judge Lawrence Marks. The letters describe the increase in ICE activity in New York State courthouses over the preceding months, and outline the negative impacts that increased ICE activity has had on our communities. Both letters can be found below.
New York City Council
On June 29, 2017, New York City Council Committees heard testimony on the increase presence of ICE in city courthouses, and the impact of this increased presence on their clients. IDP's Andrew Wachtenheim testified at this city council hearing – a written copy of his testimony can be found below.
On April 10, 2019, the New York City Council Immigration and Criminal Justice Committees held a hearing on a resolution urging the State Legislature and Governor Cuomo to pass the Protect Our Courts Act. View press release here.
NY State Campaign Media:
New York Fights to Protect Immigrants by Keeping ICE from Patrolling Courts (NY City Lens, 5/6/19)
Spring State Law Melts ICE's Control in Courthouses (The New Paltz Oracle, 5/2/19)
Reprieve for Caribbean immigrants: No arrest in NY court houses without warrant (Caribbean Life, 4/29/19)
Shield courthouses from ICE: Immigration enforcement in court settings makes us less safe (NY Daily News, 4/28/19)
Lawmakers Respond to ICE Courthouse Near-Arrest in Pelham (Documented, 4/26/19)
Poughkeepsie council backs NY state effort to keep ICE agents away from courts (Daily Freeman, 4/16/19)
NY Assemblyman Cahill says restricting ICE will stop courts from being 'traps' (Daily Freeman, 4/16/19)
Nobody Leaves Mid-Hudson backs state bill barring ICE from arresting people attending court proceedings (Daily Freeman, 4/14/19)
¿Qué impactos generan en la comunidad los arrestos de Inmigración en las cortes de Nueva York? (Univision Noticias, 4/11/2019)
ICE agents are preventing immigrants from coming to court, report finds (The Queens Daily Eagle, 4/11/19)
Bill Seeks to Protect Immigrants from ICE in NY Courts (Voices of NY, 4/11/19)
Menchaca Blasts Increased ICE presence in State Courthouses (Kings County Politics, 4/11/19)
ICE courthouse arrests have chilling effect on immigrants' access to justice, report says (AMNY, 4/10/19)
New York Judges, Lawyers Want ICE Officials Out of Courts (Wall Street Journal, 4/10/19)
Fewer Undocumented Immigrant Crime Victims are Stepping Forward (WNYC, 3/25/2019)
Trump administration 'empowering domestic abusers' by targeting immigrants in courthouses
(The Independent, 3/16/2019)
With Courthouse Arrests, Is Justice Too Risky For Immigrants? (Law360, 3/3/2019)
Immigration Agents Are Making Arrests In New York's Courts (The Nation, 2/13/2019)
Editorial: ICE-cold wrong: Treating immigrants unfairly, in and out of court (New York Daily News, 2/4/19)
DAs, Lawmakers And Advocates Rally to Freeze ICE Out of NY Courts (Queens Eagle, 2/1/19)
Immigrants in or near Capital Region courts increasingly fear ICE arrests (Times Union, 1/31/19)
ICE COURTHOUSE ARRESTS IN NEW YORK INCREASED 1,700 PERCENT UNDER TRUMP (The Intercept, 1/28/10)
ICE arrests of undocumented immigrants at NYC courthouses increase again in 2018: report (New York Daily News, 1/27/19)
Calls for End to ICE Arrests at Courthouses (Pix11, 1/31/19)
ICE Arrests at New York City Courthouses are Increasing — This Video Captures One (The Intercept, 11/2/18)
Video Shows Court Staff Helping ICE Agents Make Arrest (Documented, 11/2/18)
Queens DA Race Could Reshape NYC's Immigration Enforcement (Documented, 10/15/18)
Opinion: How ICE harms the justice system: The feds' aggressive tactics in our courthouses are emboldening violent criminals (New York Daily News, 8/2/18)
City Bar Calls on NY Chief Judge to Issue New Rules on ICE Courthouse Arrests (New York Law Journal, 7/16/18)
Opinion: New York Should Protect Its Courts from ICE (City & State, 6/20/18)
New bill calls for ICE to stop arresting immigrants at NY courts (PIX11, 6/5/18)
Immigration advocates rally for 'ICE-free courts' as NY Assembly bill seeks limits on federal agents (amNY, 6/5/18)
Presentan proyecto de ley que busca impedir arrestos de indocumentados en cortes de Nueva York (Univision, 6/5/18)
Assembly Bill Would Ban ICE Agents From Courthouse Arrests (WNYC, 6/5/18)
New York Could Institute Strongest Protections Against ICE Courthouse Arrests in US (Observer, 6/1/18)
Judge urged to curb ICE arrests at New York State courts (New York Daily News, 5/9/18)
Legisladores de Nueva York exigen a los agentes de ICE órdenes judiciales a la hora de realizar detenciones en cortes (Univision, 5/9/2018)
Van en aumento los arrestos de 'La Migra' fuera de cortes de Nueva (el Diario, 5/8/2018)
US denies some immigrants accused of crimes a day in court (The Washington Post, 5/10/2018
Undocumented immigrant arrests surge inside and outside of NYC courthouses (New York Daily News, 5/2/18)
ICE Breakers: Public Defenders are Standing Up for their Undocumented Clients in More Ways than One (The Indypendent, 4/26/18)
ICE Age in the Courts (WNYC, 4/13/18)
Lawyers Walk Out to Protest ICE, and Court Objects (The New York Times, 4/11/18)

Public Statements by New York State Officials: