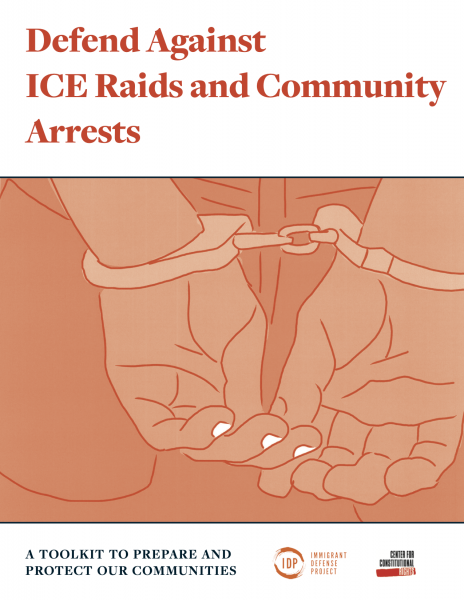 Defend Against ICE Raids and Community Arrests, the product of IDP's and CCR's collective work against ICE arrests under Bush and Obama, serves as the first comprehensive guide and organizing resource to fight back against the Trump administration's efforts to criminalize communities and deport millions of people. (Updated in July 2019)
Read Toolkit Forward (updated March 15, 2021)
Appendix A (149 pages): Select documents pertaining to ICE enforcement tactics obtained in the Immigrant Defense Project et al. v. ICE et al. FOIA litigation.
Appendix B (50 pages): Reports of raids collected by IDP, broken down by the identified ICE tactic, demonstrating the range of strategies used in their enforcement actions.
Appendix C (7 pages): Press coverage on the human toll of raids. Select stories that have been in the press humanizing individuals who have been subject to ICE enforcement.
More resources related to ICE raids and community arrests, including Know Your Rights flyers and emergency preparedness tools.
Newly Released:
La Guía Sobre Redadas y Arrestos de ICE en Español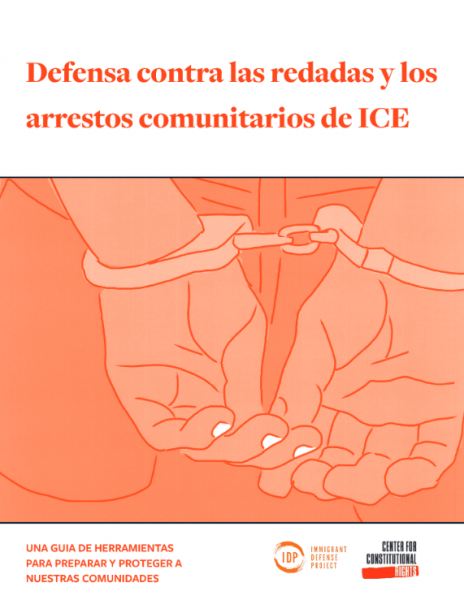 Defensa contra las redadas y los arrestos comunitarios de ICE, la realización del trabajo colectivo de IDP y CCR contra los arrestos de ICE durante los gobiernos de Bush y Obama, es la primera guía completa y recurso organizativo para luchar contra los objetivos de la administración de Trump de criminalizar a comunidades y deportar a millones de personas. (Actualizada en el julio de 2019)
Apéndice A (149 páginas): Una selección de documentos que pertenece a las tácticas de ICE, obtenido por el litigio FOIA de Immigrant Defense Project et al. v. ICE et al.
Apéndice B (50 páginas): Los reportes de redadas de ICE recopilado por IDP, organizado por la tácita usada por ICE, que demuestran la variedad de estrategias que usan los oficiales en sus redadas.
Apéndice C (7 páginas): Cobertura de la prensa que describe el impacto humano de las redadas de ICE. Una selección de artículos en la prensa que humaniza las personas que han sufrido los arrestos de ICE.
Otros recursos sobre las redadas y arrestos de ICE, incluso folletos para Conocer Sus Derechos y materiales que explican cómo prepararse para una emergencia.