Know Your Rights Flyers, Posters & Trainings
Know Your Rights (2 page flyer)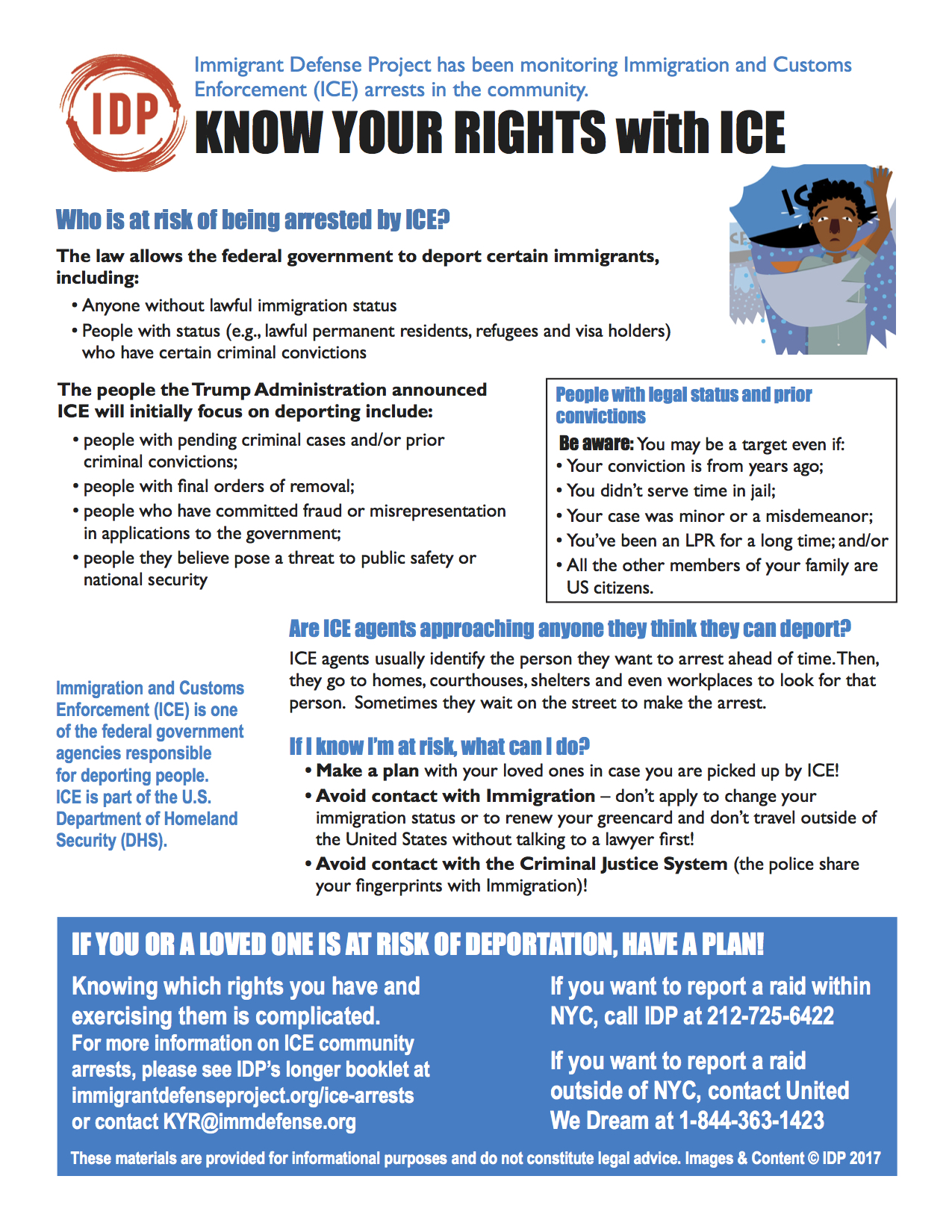 Poster to document a home raid
(11″ x 17″ poster to hang in the home, with key rights and essential information to document)
"Immigration Arrests in the Community: What You Need to Know to Protect Your Rights,"
(11-page booklet detailing trends in enforcement and your rights)
IDP has been monitoring and gathering stories on ICE arrests at homes, courthouses, and shelters since April 2013. Our materials educate community members and advocates about how to protect their rights during an ICE arrest. IDP developed these materials with legal support from the Center for Constitutional Rights.
Special thanks to Sauti Yeti; African Services Committee; Noelle Yasso; Meagan Hu; Amandeep Singh; Sikh Family Center; Tavleen Kaur; Jessica Rofé; Dimitri Charles; Marlene Bossous; Satvinder Dhaliwal; Fahmida Azad; Anisha Muni; Deepti Gupta; Shubha Bala; Sohom Datta at Latham & Watkins LLP; Carolien Hardebol & Nicole Fidler at Sanctuary for Families; Ahsan Kamal; Joy Ziegeweid from Sanctuary for Families; RUSA LGBT; Cleary Gottlieb Steen & Hamilton LLP; Francheska Galang; Marie Francesca Ansay; Mia Moran; Adriana Fernandes at SomerVIVA, a program of the City of Somerville, MA; Mariana Pacini & Julissa Saragoza-Arroyo at Shearman & Sterling LLP; and Nicole Kief for help with translations and design.
Download IDP and CCR's home raids toolkit
here
.
IDP Train-the Trainers
IDP offers substantive Know Your Rights Train-the-Trainer presentations to equip community members and advocates for training others on ICE enforcement and strategies for invoking legal rights.  A video and materials from our most recent training are available
here
.
To be notified about other know your rights training opportunities in the future, fill out 
this form
. For other questions, email 
kyr[at]immdefense.org
.
Go
here
for more info on ICE home raids and community arrests.