Know Your Rights Flyer | Home Raids Poster | IDP/Newsweek Know Your Rights Videos
Know Your Rights – 2 page flyer & 11-page booklet
Flyer for community members on rights during encounters with ICE in the community (2 pages, available in 16 languages)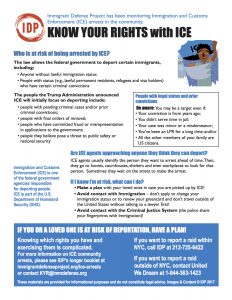 See IDP 11-page booklet for more detailed information on ICE trends and your rights in English and Spanish.
See our ICE raids toolkit for a comprehensive guide on ICE raids and strategies to fight back.
See ICEwatch, an interactive map that details ICE's deceptive and aggressive tactics with summaries of over 650 raids.
Home Raids Poster
Poster to hang in the home with a reminder of your rights, what to say, and what to document in case of an ICE (immigration) raid (11" x 17", available in 7 languages)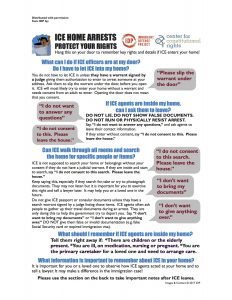 IDP/Newsweek Know Your Rights Videos
To help immigrants, their loved ones and community allies, IDP collaborated on a series of short videos produced by Newsweek. Learn how to prepare for an ICE raid and your rights during encounters with ICE in the community.
For more information on the genesis of these videos, check out "Families Fearing Deportation Because of Trump's Immigration Policies Prepare for I.C.E. Raid," an op-ed written by IDP's Mizue Aizeki.