Know Your Rights with ICE
Know Your Rights Flyer | Home Raids Poster | Car Stops | ICE Ruses | KYR Infographics | Documenting ICE Raids | IDP/Newsweek KYR Videos
Know Your Rights – Flyer & Booklet
Flyer for community members on rights during encounters with ICE in the community (2 pages, available in 16 languages)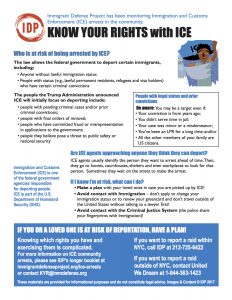 See IDP's 14-page booklet for more detailed information on ICE trends and your rights in English and Spanish.
When someone is detained by ICE, whether they can fight their case in front of an immigration judge or in another way depends on their past experience. This two-pager helps you understand what type of immigration case you could have and what your rights would be in the case of an ICE detention.
See our ICE raids toolkit for a comprehensive guide on ICE raids and strategies to fight back.
See ICEwatch, an interactive map that details ICE's deceptive and aggressive tactics with summaries of over 1400 raids.
Home Raids Poster
Poster to hang in the home with a reminder of your rights, what to say, and what to document in case of an ICE (immigration) raid (11" x 17", available in 7 languages)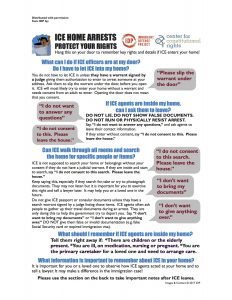 Car Stops – Resource & Know Your Rights Handout
Two-page resource explaining what to do if you are the driver or the passenger of a car that is stopped by ICE. Includes a two-page pullout sheet that explains your rights and what to say if ICE stops you in a car. Available here in English. Disponible en español aquí.
Check out IDP's accompanying practice advisory for more information on legal issues related to ICE car stops!
Learn more about ICE ruses
IDP has been tracking ICE tactics since 2013. ICE ruses (tactics that mislead people) are very common. Learn more:
A primer on ICE Ruses:

What common ICE ruses are, why and how ICE is trained to use ruses, and what you can do to protect yourself.

ICE Ruses Flyer—Ways That ICE Pretends to be Local Police." Learn more about common lies ICE tells when pretending to be local police, including in person and over the phone. Available here in English and Spanish.
Click here to preview all IDP infographics before downloading.
Know Your Rights Infographics
IDP has created a set of KYR infographics (available in both English and Spanish):
Who is at risk of ICE enforcement

What to do if ICE enters your home

The ways that ICE lies and pretends to be police in order to enter homes

Click here to preview all IDP infographics before downloading.
Documenting ICE Raids: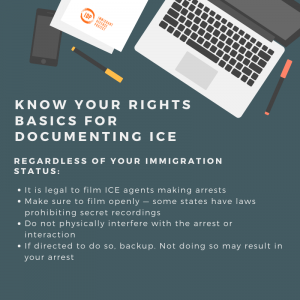 In the past few years, as many people have become aware of ICE's brutal enforcement tactics, and even more of us carry smartphones, videos of interactions with ICE have become much more frequent in the media.
Watch 

our webinar, co-hosted with

 WITNESS

, about the right to film ICE and documenting ICE abuses and raids. Use the

 free slides

on filming ICE in your own presentations.
IDP/Newsweek Know Your Rights Videos
To help immigrants, their loved ones and community allies, IDP collaborated on a series of short videos produced by Newsweek. Learn how to prepare for an ICE raid and your rights during encounters with ICE in the community.
For more information on the genesis of these videos, check out "Families Fearing Deportation Because of Trump's Immigration Policies Prepare for I.C.E. Raid," an op-ed written by IDP's Mizue Aizeki.