Know Your Rights Flyer | Home Raids Poster | IDP/Newsweek Know Your Rights Videos
Know Your Rights Infographics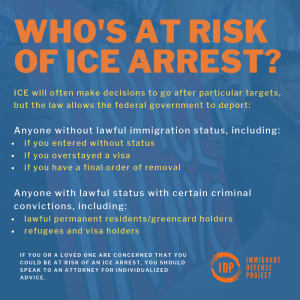 In response to the threat posed by the current administration, IDP has created a set of Know Your Rights infographics (available in both English and Spanish) with quick access information we feel is crucial for noncitizens:
Who is at risk of ICE enforcement

What to do if ICE enters your home

The ways that ICE lies and pretends to be police in order to enter homes
These infographics are designed to equip noncitizens with the knowledge of what to do when you know your rights, but ICE violates them.
Click here to preview all IDP infographics before downloading.
Common ICE Ruses Infographics
It's extremely common for ICE agents to lie about who they are and what they want. As addenda to our Know Your Rights Infographics, IDP has created a few new infographics about commonly used ICE ruse tactics, both in-person and over the phone. Available in both English and Spanish!
Click here to preview all IDP infographics before downloading.
Know Your Rights – Flyer & Booklet
Flyer for community members on rights during encounters with ICE in the community (2 pages, available in 16 languages)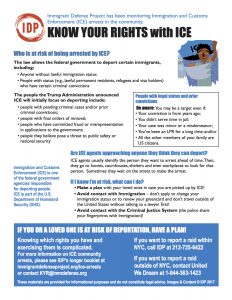 See IDP 11-page booklet for more detailed information on ICE trends and your rights in English and Spanish.
When someone is detained by ICE, whether they can fight their case in front of an immigration judge or in another way depends on their past experience. This two-pager helps you understand what type of immigration case you could have and what your rights would be in the case of an ICE detention.
See our ICE raids toolkit for a comprehensive guide on ICE raids and strategies to fight back.
See ICEwatch, an interactive map that details ICE's deceptive and aggressive tactics with summaries of over 650 raids.
Home Raids Poster
Poster to hang in the home with a reminder of your rights, what to say, and what to document in case of an ICE (immigration) raid (11" x 17", available in 7 languages)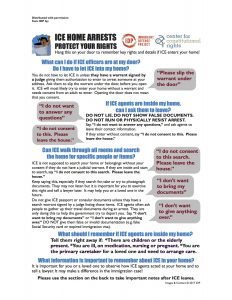 IDP/Newsweek Know Your Rights Videos
To help immigrants, their loved ones and community allies, IDP collaborated on a series of short videos produced by Newsweek. Learn how to prepare for an ICE raid and your rights during encounters with ICE in the community.
For more information on the genesis of these videos, check out "Families Fearing Deportation Because of Trump's Immigration Policies Prepare for I.C.E. Raid," an op-ed written by IDP's Mizue Aizeki.