The Protect Our Courts Act is now law in New York State!
On December 15, Governor Cuomo signed the Protect Our Courts Act into law. This law will keep ICE officers from arresting individuals going to or leaving court, bringing relief from the constant threat of ICE surveillance and arrest for immigrants. Find out more about what this means in our Community FAQ, available in both English and Spanish. IDP has also developed an overview of our three-pronged approach to getting ICE Out of Courts—legislation, litigation and court rules.
ICE Out of Courts in NYS | National Resources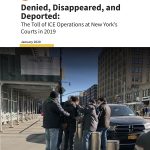 Legal Analysis of New DHS Courthouse Arrest Policy (April 2021):
In April of 2021, DHS issued a revised courthouse arrest policy clarifying its position on when ICE and CBP officials can conduct civil immigration arrests in or near courthouses. For a brief explanation and analysis of the memorandum, please see IDP's Legal Analysis of April 27, 2021 DHS Memorandum "Civil Immigration Enforcement Actions in or near Courthouses."
The ICE Out of Courts Campaign
The Immigrant Defense Project closely monitors ICE activity at state courthouses in New York and around the country. From January 2017 through December 2018, IDP documented an alarming 1700% increase in ICE arrests and attempted arrests across New York State. In 2018, IDP documented 219 such incidents—a 27% increase over 2017 (updated to reflect additional reports received). To date in 2019, IDP received reports of 176 arrests and attempted arrests– 15 times more than they were in 2016. ICE courthouse arrests have continued, despite the implementation of court rules by the New York State Office of Court Administration (OCA), prohibiting ICE from arresting individuals in state courthouses without a judicial warrant or judicial order. The consequent threats to universal access to justice and to public safety are tremendous, as immigrant communities become too afraid to seek justice in criminal, family, and civil courts.
To learn more about the impact of ICE enforcement in New York's courts, read our January 2020 report, "Denied, Disappeared, and Deported: The Toll of ICE Operations at New York's Courts in 2019" and the ICE Out of Courts Coalition report "Safeguarding the Integrity of Our Courts: The Impact of ICE Courthouse Operations in New York State."
In October 2019, Ceres Policy Research issued "The Chilling Effect of ICE Courthouse Arrests: How Immigration and Customs Enforcement (ICE) Raids Deter Immigrants from Attending Child Welfare, Domestic Violence, Adult Criminal, and Youth Court Hearings." Based on surveys of 1000 people who were immigrants or had immigrant family members, the study found that ICE courthouse arrest activity has had a significant impact on court participation and perception of the justice system. See more details in the executive summary.
Our ICE Out of the Courts website provides updated statistics and information about ICE's courthouse arrest policies, media coverage and materials from the campaign, and resources for bringing campaigns to other states.
For Defense Attorneys: ICE in Courts
Practice Tips for Defense Attorneys: How to Advise Immigrant Clients on ICE in the Courts (updated July 2019)
ICE Courthouse Arrest Intake Questions
If you know of an arrest or an attempted arrest by immigration agents in a NY courthouse, please contact Terry Lawson (terry[at]immdefense.org). You can also fill out the form on the other side of this sheet and fax it to us at 1-800-391-5713.
Guide for Criminal Defense Counsel: Representing Clients Detained by ICE