View IDP's  ICE Out of Courts Campaign Toolkit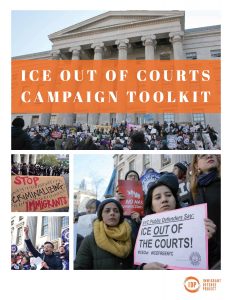 IDP closely monitors ICE activity at state courthouses in New York and around the country. From 2016 to 2017, we documented an alarming 1200% increase in ICE arrests and attempted arrests across New York State. The consequent threats to universal access to justice and to public safety are tremendous, as immigrant communities become too afraid to seek justice in criminal, family, and civil courts.
In response, we have been coordinating a campaign with more than 100 legal, social service, and civil rights organizations to get ICE out of the Courts in New York State. Our ICE out of the Courts website provides updated statistics and information about ICE's courthouse arrest policies, media coverage and materials from the campaign, and resources for bringing campaigns to other states.