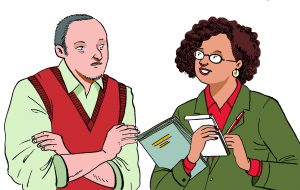 Disponible aquí en español.
If you are a lawful permanent resident ("green card" holder) and have ever been arrested – regardless of the outcome of the case – it is important to seek legal advice BEFORE submitting an application for citizenship. Applying could put you at risk of deportation or you could be denied because of your criminal history.
---
Información para Residentes Permanentes Legales (con "green card") que quieren aplicar a la ciudadanía estadounidense pero tienen un historial criminal.
Si eres residente permanente legal (con "green card") y alguna vez fuiste arrestado–independientemente del resultado del caso–, es importante consultar con un abogado ANTES de aplicar a la ciudadanía.  El aplicar podría ponerte en riesgo de deportación o te la podrían negar por tu historial criminal.
IDP ha creado estos recursos para ayudarte a comenzar a entender los riesgos y posibilidades de aplicar a la ciudadanía teniendo un historial criminal.
Alerta para Residentes Permanentes Legales que quieren aplicar a la ciudadanía estadounidense pero tienen un historial criminal – Entérate sobre los documentos que debes preparar para la evaluación con un abogado y las preguntas que debes hacer antes de aplicar a la ciudadanía. (1 página)
Preguntas comunes para Residentes Permanentes Legales que quieren aplicar a la ciudadanía estadounidense pero tienen un historial criminal – Entérate de las respuestas a preguntas comunes que recibe IDP sobre los riesgos y posibilidades de aplicar a la ciudadanía si en el pasado fuiste arrestado. (2 páginas)