Representing Immigrant Defendants in New York, 5th Edition
Representing Immigrant Defendants in New York, 5th Edition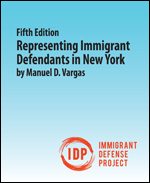 Over 20 percent of New York State residents are foreign-born, according to the U.S. Census, and many are non-citizens who may be easily subject to detention and deportation for criminal convictions. Through a well-organized explanation and analysis of the relevant law – along with our renowned two-page "Immigration Consequences of Crimes Summary Checklist" and 12 appendices for quick reference – the 2011 edition of our manual offers detailed, practical, straightforward, and up-to-date information to help defense attorneys:
Comply with Padilla obligations when representing non-citizen clients
Identify potential immigration consequences of specific New York dispositions
Strategize ways to avoid adverse immigration consequences in criminal cases.
Representing Immigrant Defendants in New York, 5th Edition, is currently out of stock. Please contact us via the form below, and we'll let you know when updated resources are available.