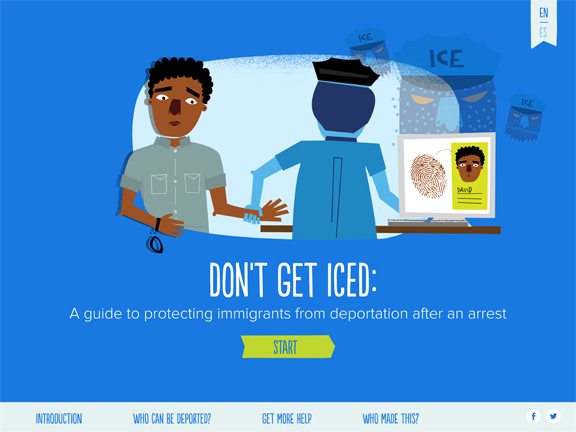 Don't get ICEd!
A guide to protecting immigrants from deportation after arrest
Don't get ICEd, IDP's interactive web-based Know-Your-Rights educational tool (in English and Spanish), available at dontgeticed.org
For more detailed information on your rights with police, in particular with Stop and Frisk, see Communities United for Police Reform's booklet available in English and Spanish.
ICE at Rikers
IF you are held at Rikers Island, ICE may want to interview you. You can refuse to be interviewed by filling out this option on ICE Interview Consent Form 144 in English and Spanish
Rikers Workshops
We hold biweekly workshops at Rikers Island with incarcerated immigrants, many of whom face a high risk of deportation because of their contact with the criminal justice system. These bilingual (Spanish and English) workshops are designed to help orient immigrants in the criminal justice system to what they face and to provide practical tips and strategies to fight deportation.
Your rights under Padilla v. Kentucky
A guide to working with your criminal lawyer: A brochure on your rights under Padilla v. Kentucky in English and Spanish.
Learn more about post-conviction relief and view model materials for developing a New York CPL § 440 motion based on Padilla v. Kentucky at IDP's PCR page
Workshops: Know Your Rights With Police and ICE
IDP conducts bilingual (Spanish and English) Know-Your-Rights workshop for community members. Our workshops include: An explanation of the different ways you may be tagged for deportation in the criminal legal system (such as under ICE's "Secure Communities" program) and how to protect your rights when dealing with the police and ICE.
To request a workshop in your community, please call us at 212.725.6485 or email info[at]immigrantdefenseproject[dot]org.