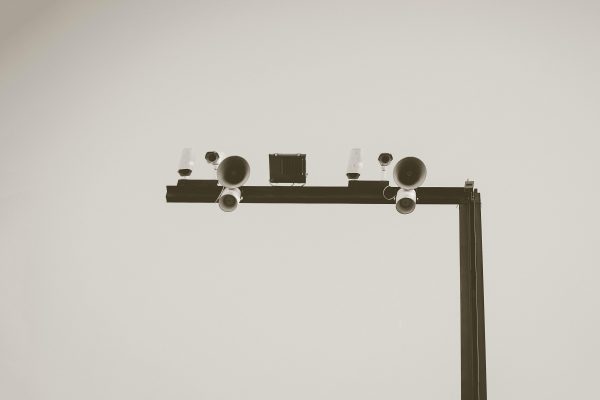 IDP Project on Surveillance, Tech & Immigration Policing
Governments are increasingly joining forces with technology corporations to develop tools to identify, track, and surveil people within and across national borders. Surveillance to track and police people is also converging with urban "Smart Cities" initiatives, where massive amounts of data are collected and analyzed from public transactions and interactions, such as transit systems, public Wi-Fi, and cashless payments. Not only are tech corporations expanding their role in local governance by providing critical services to automate and centralize a wide range of government services, these corporations are increasingly defining our collective future and undermining democratic governance and struggles for justice and equality. IDP's Surveillance, Tech & Immigration Policing project focuses on these issues at the intersection of the criminal legal and immigration systems to support initiatives and organizing towards a just digital future.
Ban the Scan: Outlaw Facial Recognition in New York
IDP joined Amnesty International, the Surveillance Technology Oversight Project, the New York Civil Liberties Union, the Electronic Frontier Foundation to call for New York City and State to outlaw government use of facial recognition. New York would join a growing number of cities and states that have outlawed facial recognition, including Boston, San Francisco, Portland and Vermont. Learn more here. IDP participated in a press launch of the event on January 26, 2021.
In March 2021, IDP submitted an updated comment in opposition to the proposed rule by Customs and Border Protection (CBP) to expand collection of biometric data, including facial recognition, upon entry and exit from the United States.
ICE Raids and Surveillance
As the anti-immigrant climate has accelerated, advocates have been confronted by a rapidly expanding surveillance state. Using tools developed for military applications, as well as tools developed by Silicon Valley tech corporations, Immigration and Customs Enforcement (ICE) has escalated raids, becoming a near permanent presence in cities like New York—targeting people at homes, courts, workplaces, and on the streets. ICE has also effectively made local policing an extension of the deportation police force. This includes automatic data sharing between police and DHS, and encouraging police and jails to turn people in local custody over to ICE.
As ICE raids have accelerated over the past seven years, IDP has monitored ICE raids trends and tactics in New York, including ICE surveillance tactics. We use the information gathered from this monitoring ICE tactics to help guide our community defense resources and trainings and to build campaigns such as ICE Out of Courts.
Mijente's #NoTechforICE
IDP works closely with Mijente on their #NoTechforICE campaign. In 2018, we jointly issued "Who's Behind ICE? The Tech Companies Fueling Deportations." This report focuses on how tech companies and contracts are fueling immigration policing and what we can do to expose and hold these actors accountable.
IDP is also working with Mijente, Law Students Against ICE, and Researchers Against Surveillance to call on Thomson Reuters and RELX (parent company to Lexis-Nexis) to end their contracts with ICE. Learn more about how Thomson-Reuters and RELX fuel ICE's deportation machine here.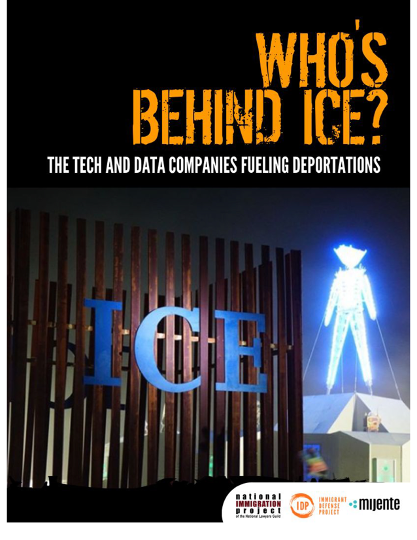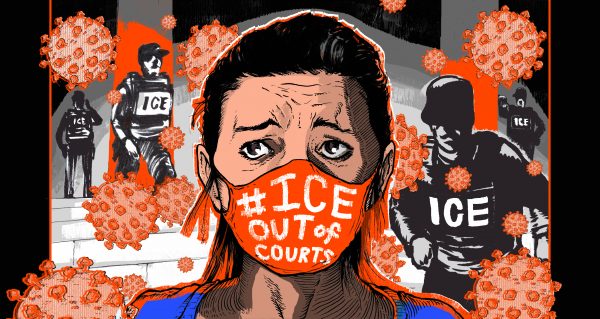 COVID Surveillance
We have also partnered with Just Futures Law's COVID-19 FOIA Project, to monitor how government and tech companies are rapidly expanding tech surveillance and to ensure that a public health emergency is not misused to increase deportation and criminalization. Read a factsheet on HHS Protect, a vast secretive database designed by Palantir, and why it is to troubling.
IDP also worked with allies to ensure that the Governor signed the Contact Tracing Confidentiality Act Contact Tracing Confidentiality (S.8450-C/A.10500-C). The New York State Legislature passed this act in July to protect contact tracing data from police and ICE, and the Governor signed it into law on December 23, 2020. Press release here.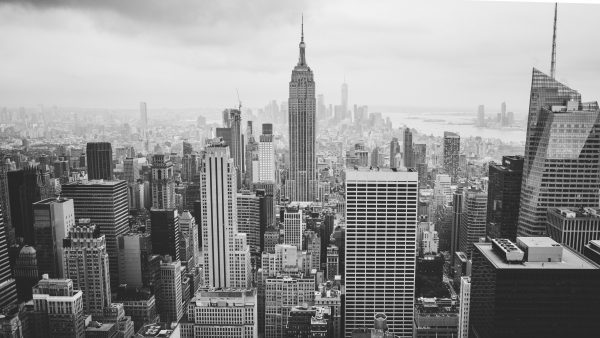 Digital IDs: Campaign to Preserve the IDNYC
In late 2018, the coalition that formed to design, launch and promote the IDNYC (NYC's municipal ID card) learned that the administration of the City of New York had issued a request for proposals to add a smart chip to the IDNYC. According to the solicitation, the chip would allow cardholders to load funds onto their IDNYC cards, make payments to private vendors, and enable "integrations with public and private partners, such as the MTA's planned contactless fare payment system and NYC Health + Hospitals medical records."
We have expressed steady concerns that this plan would expose cardholders—particularly immigrant New Yorkers—to serious privacy, surveillance, consumer protection, and other unwarranted risks. These very real risks far outweigh any purported benefits the plan would provide to New Yorkers. Learn more about the issue below.